Main content starts here.
Update:November 16, 2010
ICETT Holds International Exchange Event
On November 7 (Sun), ICETT held an event where 18 participants in our training course from various countries and a large number of local residents had a pleasant time together.
The participants entertained us all by making presentations about their own countries, dancing and playing musical instruments. In addition, there was a comic story telling in English, also known as "eigo rakugo", by Mr. Okidokitei Kanta. At first, the participants were unsure of what to make of the storyteller in a kimono showing up on the stage, but eventually they were getting into his performance, caught on to the punch lines of his jokes and burst into laughter. They and the residents deepened their friendship, helping each other put on Central Asian ethnic costumes or Japanese yukatas - informal cotton kimonos worn in summer. Some residents brought calligraphy tools, such as brushes, to the event and taught the participants how to write "peace" and "Japan" in Japanese. There were some participants who showed off their pieces of work with their names written in katakana characters.
We hope that those who visited ICETT for the occasion enjoyed themselves. We would like to continue to provide opportunities for local residents and participants from various countries to get together through homestays and other events since international and local exchanges contribute significantly to promoting friendship.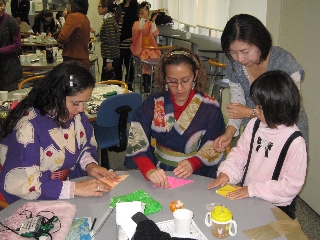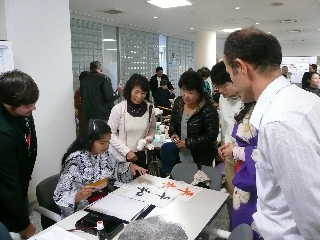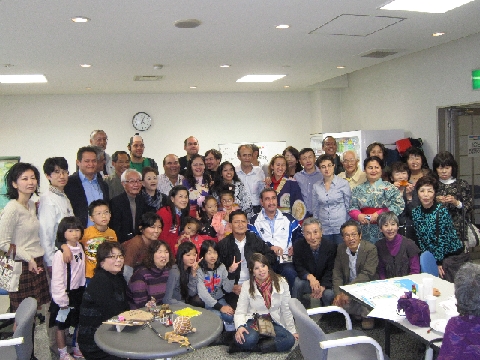 Please join us the next time an event like this is held! (Yada)