Main content starts here.
Update:March 14, 2014
FY2013 JICA Urban Environmental Management Course for Young Leaders from Indonesia Closed
For 14 days from June 18 to July 1, ICETT held a JICA-commissioned Urban Environmental Management course for young leaders from Indonesia.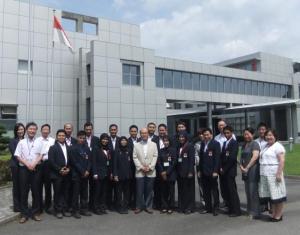 The course was attended by 15 Indonesians, aged up to 35 years, who are responsible for waste management at private companies or at Indonesian central and local governments. It was intended for the participants to learn about Japanese experiences and technology regarding Japanese environmental administration, environmental management methods by municipalities, and education on the environment. By taking advantage of what they have learned in Japan they will now have the opportunity to contribute to environmental improvement in their own country.
Opening ceremony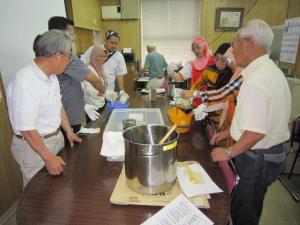 The Indonesian participants saw environmental volunteer activities by local residents and education on the environment at an elementary school. A volunteer group collecting waste cooking oil offered an opportunity to make soap from waste oil and eat 'yakisoba', fried noodles, and 'O-shiruko', adzuki bean soup with rice cake, that the group sells at eco and other events. Indonesian coffee was also served. At the school, these participants learned that students there received instructions on what to do in accordance with the development level of each grade: students in the lower grades lined up their own shoes, and children in the middle and higher grades cleaned up their school field and made flower beds as part of student committees' activities.
    Making waste-oil soap with NPO members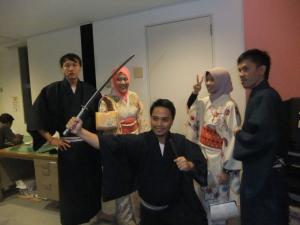 This course was also designed for the participants to deepen their understanding of Japanese culture, while developing friendly relationships with Japanese people. Besides the course work, they visited Shisui-an, a Japanese tea house, in Yokkaichi to enjoy a style of tea ceremony using chairs to sit on and listen to an explanation of the 'sukiya' style of building. They also enjoyed a photo session wearing kimonos donated by local volunteers. In their free time, they went shopping and ate Japanese food including sushi and tako-yaki, or octopus balls.                                                                   
Participants dressed in kimonos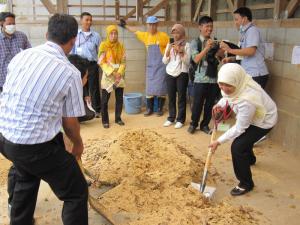 There were an action plan presentation and an evaluation session at JICA Chubu in Nagoya. Many of the participants made presentations about the importance not only of technical enhancement of waste disposal but also the raising of awareness among residents for sorting and recycling at waste sources. They also strongly felt a necessity to promote early education on the environment in Indonesia. It is highly expected that these participants will play an active role in widely promoting what they have learned in this course after returning home. ICETT would like to express its gratitude to those who cooperated in the course.
Compost bed made of rice husks, clay, dead leaves, and water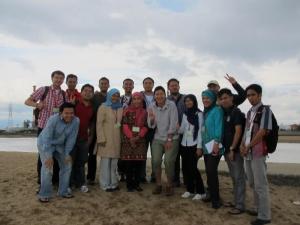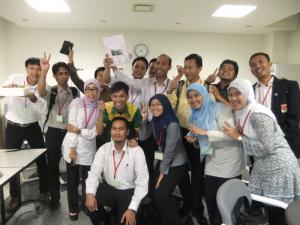 With a young volunteer who told the participants about efforts in Yokkaichi to overcome pollution
At a birthday party for a participant
(Uchida・Ideta・Kise)