Main content starts here.
Update:October 4, 2017
FY2017 Yokkaichi-Commissioned Global Environmental Workshop Held for High Schooler Students
The International Center for Environmental Technology Transfer, ICETT, organized a fiscal year 2017 Global Environmental Workshop, commissioned by the City of Yokkaichi. ICETT would like to express its gratitude to all the parties involved in the program, including lecturers, company staff members, and volunteers, for their cordial support and cooperation.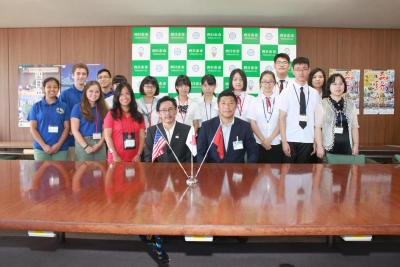 1)Duration
 July 31 to August 7, 2017 (including travel days)
2)Participants
 Four high school students from Tianjin in China, supervised by one adult
Four high school students from Long Beach in the United States, led by one adult
Four high school students from Yokkaichi in Japan
3)Summary
The workshop on "Stop Global Warming! – What We Can Do for the Future of the Earth" provided opportunities for the teenagers to learn about measures against global warming while visiting the Yokkaichi City Clean Center and environment-related companies. They also deepened exchanges with each other and with students from Kaisei High School.
Main visiting sites 
Yokkaichi Pollution and Environmental Museum for Future Awareness
Yokkaichi Complex of Tosoh Corporation
Yokkaichi City Clean Center
Yokkaichi Port
Kaisei High School
Imuraya Group Co., Ltd.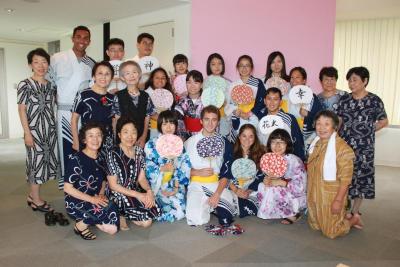 Besides these training activities, the program also included opportunities to experience the traditional Japanese culture and some attractions of Yokkaichi.
 Making of "Hinaga Uchiwa", or Hinaga Fans, one of the traditional craft products in Yokkaichi (at Inatoh Co., Ltd.)
 Tasting of "kabuse-cha", or mild green tea, grown in Yokkaichi (at Marushige Shimizu Tea Farm)
 Using chopsticks to catch "somen", thin wheat noodles, as they flow down in an open bamboo pipe before eating them (with the Nature and Children Association)
Wearing yukata, casual summer kimono (with the Yokkaichi Consumers' Association)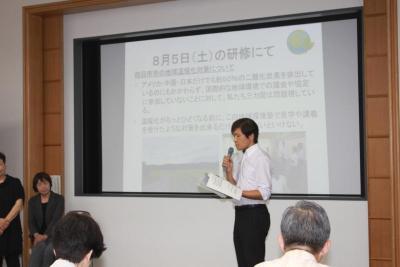 On the final day of the week-long workshop, the participants in two groups took advantage of what they had learned during their stay and presented the current environmental situation and problems of each of their cities and their ideas and views on what they can do to protect the future of the Earth.
This fiscal year marks an important milestone for Yokkaichi, the 120th anniversary of officially becoming a city. To celebrate the anniversary, Mr. Seita Emori from the National Institute for Environmental Studies delivered a lecture, entitled "Global Warming and Our Future".
He also left comments on their presentations and offered advice.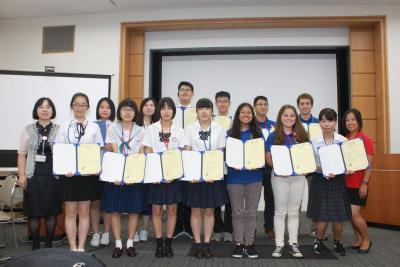 The teenagers not only learned about various matters concerning environmental protection but also deepened their consideration of environmental issues from a global viewpoint.
These participants are highly expected to continue their exchanges with each other and play an active role as a friendship bridge and as young members of the future generation in the coming years, while contributing to improving the environmental conditions of Yokkaichi and its two sister cities, Tianjin and Long Beach.
 ICETT would like to express its gratitude to all the parties who cooperated in the workshop.