Main content starts here.
Update:December 1, 2014
ICETT Holds FY2014 JICA Training Program for Young Leaders for India/Urban Environmental Management Course
A JICA-commissioned Training Program for Young Leaders for India/Urban Environmental Management Course was carried out for 13 days from December 3 to 15, 2014.
Outline
The Japan International Cooperation Agency, JICA, invited 14 Indians, aged up to 45 years, to attend this course at ICETT. They consisted of officials from the central government of India, local governments and an associate professor. The course was intended for the Indian participants to learn about Japanese experiences and technology regarding Japanese environmental administration, environmental management methods by municipalities, and education on the environment. By taking advantage of what they learned in Japan they now have the opportunity to contribute to environmental improvement in their own country. Most of the participants serve as middle-ranking officials. They further deepened their understanding of the basics they had learned in their country and examined the current situation of India and Japan. They also vigorously exchanged opinions and views not only with each other but also with those who cooperated in the course, while engaging in lively exchanges with local residents.
Details
The participants visited a recycling facility and a sewage treatment plant. They also attended lectures to learn about Japanese laws on waste disposal, while observing activities by a NPO to help develop a recycling-oriented society, such as the composting of organic waste. They learned about water-source management, joint and community-based wastewater treatments, and combined household wastewater treatment facilities installed at each household as an inexpensive option to dispose of wastewater. The Indian participants saw environmental volunteer activities by local residents and education on the environment at an elementary school. Elementary school pupils in India engage in cleanup activities, too, but it is not a daily routine there. Here in Japan, students carefully clean classrooms, even restrooms and hallways, which surprised and impressed the participants. A volunteer group collecting waste oil offered an opportunity for them to make soap from waste oil and eat 'yakisoba', fried noodles, and 'yakimochi', toasted rice cake. The group sells them at eco and other events. Coffee was also served.apan International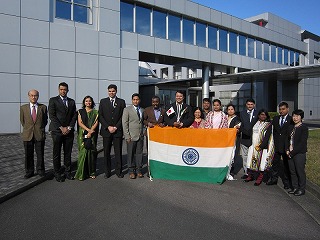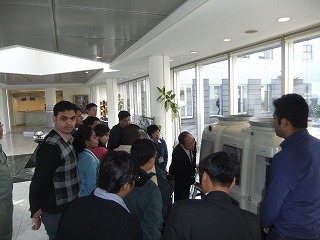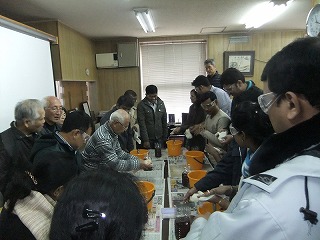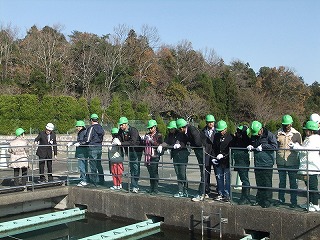 (From Left:
Opening Ceremony, Learning about the Structure of Septic Tanks on a Model, Making Soap from Waste Oil,
Suizawa Water Purification Plant in Yokkaichi)
This course was also designed for the participants to deepen their understanding of Japanese culture, while developing friendly relationships with Japanese people. Besides the course work, these Indians visited Shisui-an, a Japanese tea house, in Yokkaichi to enjoy a style of tea ceremony using chairs to sit on and listen to an explanation of the 'sukiya' style of building. During their stay at ICETT, the participants had an opportunity to meet ten high school students from Mongolia who also visited Japan at that time. They learned about Mongolia and India by enjoying a question-and-answer session, an impromptu dance contest, and singing songs from both countries. On a weekend, the participants were also given an opportunity to meet local Japanese volunteer families and a local English-conversation group. They observed a karate demonstration, which was followed by experiencing kata, patterns of movements, by themselves. Then, they enjoyed chatting, trying 'origami', the art of folding paper into various figures, and eating snacks and fruits brought by local volunteers. In their free time, they went shopping to buy souvenirs for their families and friends and tried Japanese food at a Japanese-style pub and a conveyor belt sushi restaurant. On another weekend, some of the participants visited Kyoto and others took a gondola to the summit of Mt. Gozaisho to see snow. They all enjoyed these first-time experiences.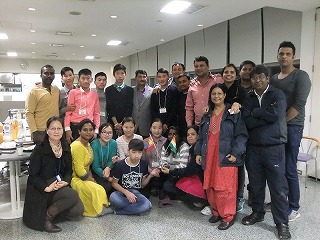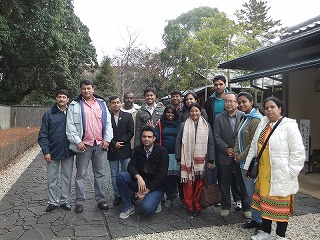 (From Left:
Exchange with Mongolian High School Students, Tea Ceremony at Shisui-an in Yokkaichi City)
There were an action plan presentation and an evaluation session at JICA Chubu in Nagoya. Many of the participants made presentations about not only the importance of technical enhancement of waste disposal but also plans to reduce the level of air pollution caused by automobile exhaust in large cities and the amount of non-revenue water. After returning home, it is highly expected that these participants will play an active role in widely promoting what they learned in this course, which included exchanges of opinions with Japanese government officials. ICETT would like to express its gratitude to those who cooperated in the course and exchange events.