Main content starts here.
Update:April 18, 2015
FY2014 Japan-Asia Youth Exchange Program in Science (Sakura Science Plan)
ICETT held a science and technology program for ten high school students from Ulan Bator, Mongolia.
From November 30 to December 7, 2014, ten high school students from Ulan Bator attended a training course in Japan. They were accompanied by one official from the Ulan Bator City Education Bureau. ICETT was the base for their course, including lectures, practices, visits to various sites, and exchange events.
The course focused on Japan's experiences and efforts to protect the environment because this might also help tackle environmental pollution issues in Mongolia. It also provided an opportunity to learn about environmental protection, efforts in Japan, especially in Yokkaichi, against industrial pollution, the use of science and technology, and sustainable growth.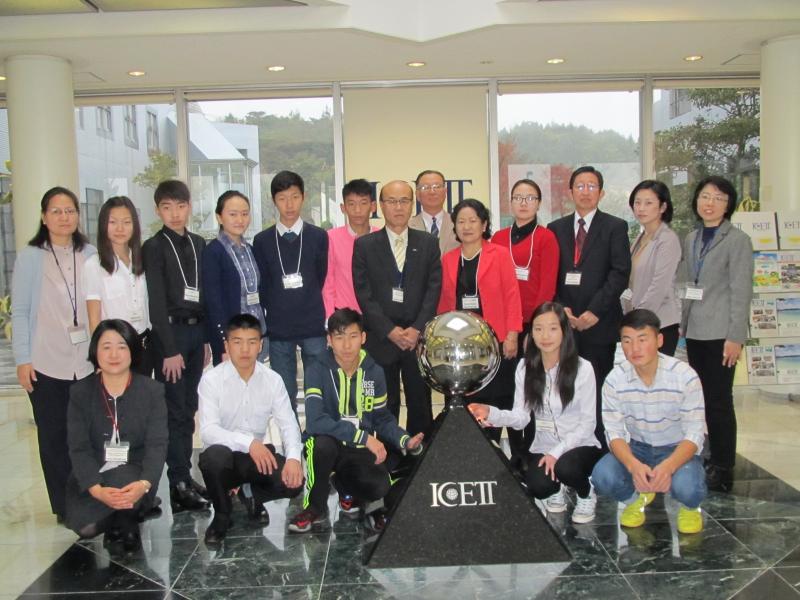 Commemorative photo after the opening ceremony
The program started with a lecture on the so-called "Yokkaichi pollution", a key part of the course, and a visit to an environmental analysis center. It was impressive that the Mongolian students didn't take any break from the lecture and enthusiastically asked many questions. When visiting Japan's first successful biomass energy facility, the teenagers showed strong interest in it and seemed to imagine the possibility of using it in Mongolia, too, based on their knowledge of conditions in their country.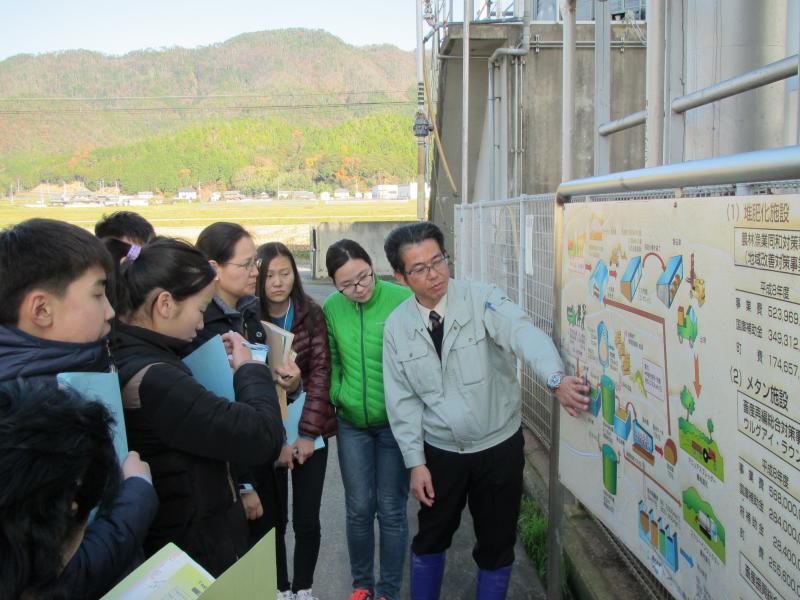 Listening to an explanation about renewable energy production
from livestock waste at a biomass energy center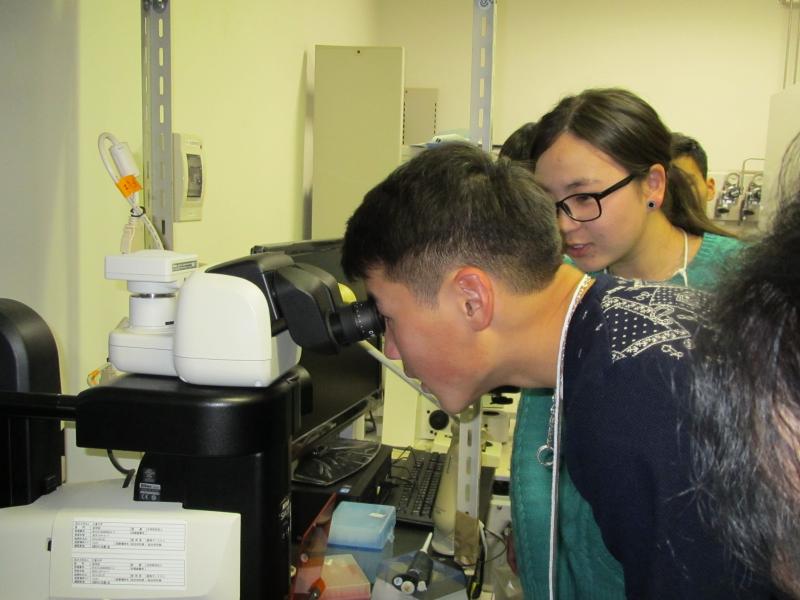 Learning about study cases in scientific technology at a university
At a university in Mie Prefecture, the students learned about developmental neurotoxicity evaluation. They also visited a solar energy generation facility and learned about how to generate electricity at a company in the neighboring prefecture of Aichi. They were surprised at the power generation in such a huge area.
Following that, the participants took a tour of Tokyo and visited the National Museum of Emerging Science and Innovation, or Miraikan, and the Tokyo Metropolitan Government. At the museum, they saw various exhibits and enjoyed scientific and technological experiences. At the government, officials welcomed the Mongolians even though it was a holiday. They learned about the history of the Tokyo Metropolitan Area, urban development, and promotion of industry, science and technology. They were excited by the view of the many high-rise buildings in the capital and felt like time was passing very quickly.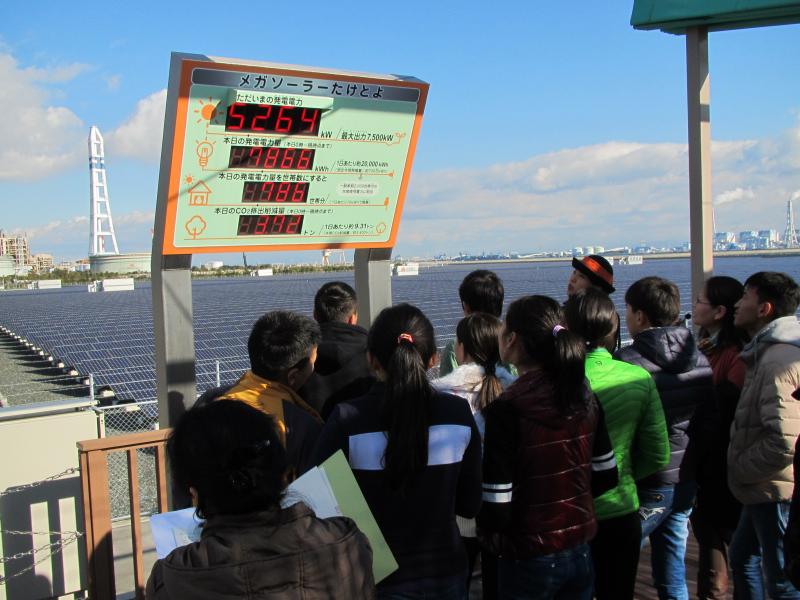 At a renewable energy facility (solar energy generation)


Speaking with an android robot at the National Museum of
Emerging Science and Innovation

Besides the training activities, there were opportunities for the students to have exchanges with local Japanese people.
They visited a high school in Yokkaichi. The Mongolian and Japanese students made presentations about their own countries, and then had a workshop to figure out mathematic questions in mixed groups. A warm atmosphere was created by ethnic costumes worn by the Mongolians and souvenirs given to each other.
There was a birthday party for one of the participants, which included an opportunity to try "origami", the art of folding paper into various figures. On another day, they visited a local volunteer family in Yokkaichi and experienced the Japanese way of life. They had a memorable and precious time while staying with the warm-hearted family.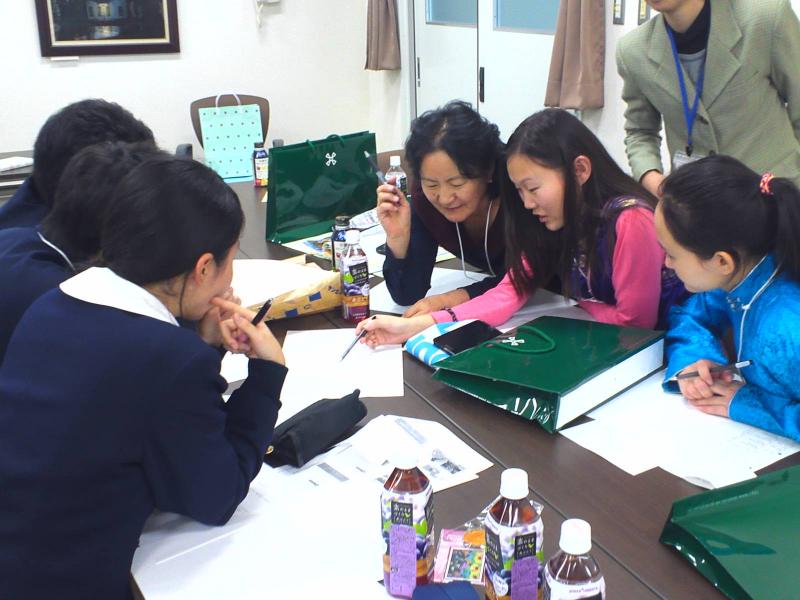 With Japanese high school students in Yokkaichi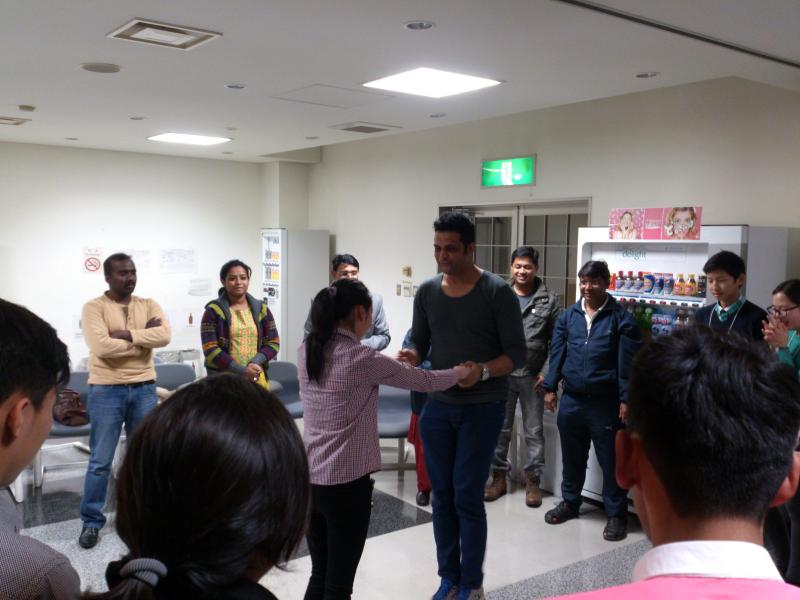 With Indian participants in a JICA course at ICETT
At the closing ceremony, the teenagers were given certificates. After that, there was a farewell party, also as an exchange event with Indian participants who were just visiting ICETT to attend a JICA training course. The party warmed up with dances and presentations of their own countries.
During their stay, the students obtained various kinds of useful information and appeared to realize through their experiences that the proverb, "Seeing is believing", really is true.
On February 10 after returning home, they took part in a debriefing session in Ulan Bator under the supervision of the official from the Education Bureau. According to them, they explained to teachers and students at their schools the course details, information they acquired, and their impressions of the course. They also already started environmental activities at school. The participants gave an impression that they strongly intend to tell and share their valuable experiences in Japan with their friends. It is highly expected that they will play an active role in the future, too.
Thanks to the support by the Japan Science and Technology Agency (JST), the course was quite fruitful for the participants and ICETT. ICETT would like to express its gratitude to those who cooperated in the program.