Main content starts here.
Update:February 4, 2009
Research Project regarding Possibility of Human Resources Development for Environmental Management Graduate School for German/Japanese Dual Master's Degree (IMAT) Program Students Visit (Project commissioned by Mie Prefecture) (Posted again for convenience)
Following on from last year, from January 11, 14 students and teachers from a Graduate School offering a German/Japanese Dual Master's Degree (IMAT) Program visited Mie Prefecture for one week by invitation of Mie Prefecture and Yokkaichi City. This year, after a courtesy visit to Mie Prefecture Governor Mr. Akihiko Noro and Yokkaichi City Mayor Mr. Toshiyuki Tanaka, they visited 12 enterprises, offices and schools to observe environmental measures, and participated in environmental seminars. They gained a lot of knowledge and information as well as enjoying friendship exchange with students of Yokkaichi University.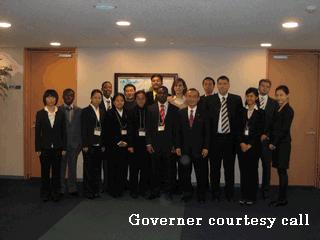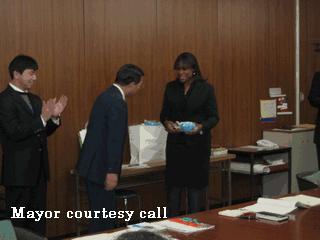 Background and purpose of the project:
The University of Trier in Germany, well-known in the field of environmental management, and Ritsumeikan Asia Pacific University (APU) in Beppu City, Oita Prefecture, offer an environmental dual degree program in International Material Flow Management (IMAT). It is a course to receive dual degrees in Japan and Germany after studying for one year in Japan and another year in Germany.
The exchange started when Governor Mr. Noro and former Yokkaichi City Mayor Mr. Tetsuo Inoue visited the University of Trier in the fall of 2007. 25 students and teachers visited Mie Prefecture last January. This year ICETT both suggested and planned the project, and has been awarded the commission.
Project detail and schedule:
Students:
13 students (6 males, 7 females), currently enrolled in APU in Beppu, arrived in Nagoya in the morning of January 11 by overnight bus. They hail from 9 countries, namely Indonesia, China, India, Myanmar, Germany, Croatia, Ghana, Uganda, and Trinidad Tobago. Ms. Cle-Anne from Trinidad Tobago was the student leader. Ms. Andante and Ms. Okktovina from Indonesia have been in APU for 4 years, and are fluent in Japanese. Half the students made their self introduction in Japanese. Following on from last year, instructor Mr. Kunaus joined us from Germany.
Schedule:
Besides the courtesy visit, they visited various enterprises and offices which have considerable experience and achievements in the environmental business. It was a rather hard bus tour to receive the explanations and then go into the field, but the students coped well with the schedule, and continued with discussion until midnight after returning to ICETT.
| Date | In the morning | In the afternoon |
| --- | --- | --- |
| Jan 11 | Arriving at ICETT | Welcome party, joint seminar |
| Jan 12 | Chubu Electric Power Co., Inc. Kawagoe Thermal Power Plant | Sanyu Giken Industry Co., Ltd. Tsu Housing Center |
| Jan 13 | North Purification Center, Toshiba | Yokkaichi Chuou Technical High School, Waste Treatment Center, Courtesy visit to the Mayor of Yokkaichi City |
| Jan 14 | Morita Holdings Corporation | Aino Gakuen Agricultural High School |
| Jan 15 | Courtesy visit to the Governor of Mie Prefecture | MFCA Seminar |
| Jan 16 | Sankei Industry Co., Ltd., Suzuka Fuji Xerox Co., Ltd. | Taiheiyo Cement Corporation |
| Jan 17 | Summary, closing ceremony | |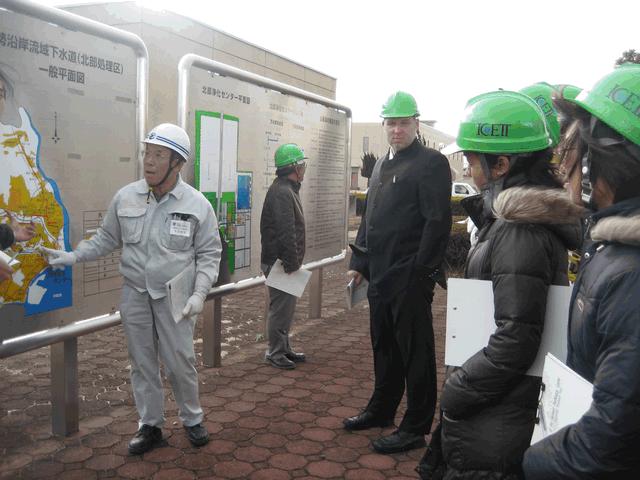 On the last day, several suggestions were made as a summary. After receiving their certification of completion, the students returned to Beppu safely by overnight bus. They had a meaningful exchange in participating in events near ICETT to be exposed to Japanese culture as well as studying.
We expect this visit will lead to human resources development for environmental management not only among IMAT students but also in Mie Prefecture in the future.