Main content starts here.
Update:November 11, 2010
ICETT Exhibits at Interactive Fair for Biodiversity (COP10)
ICETT exhibited in the EXPO zone in the Shirotori area adjacent to the COP10 venue in Nagoya for a week from October 23 (Sat) to 29 (Fri).
Our booth had an estimated 1,000 visitors during the week, although there had been some concern over the possibility of only a small number of visitors coming because it was located at the edge of the zone. Especially on the first day, the 23rd (Sat), we collected as many as 300 questionnaires in nice weather. In total, more than 800 were collected during the week.
There seemed to be a lot more elderly visitors than families. As expected, there were more environmental specialists and students who study the environment as compared with other kinds of events. Foreign visitors seemed to have a great interest in the items on exhibition, too.
As a whole, our main visitors were those highly interested in the environment. It was quite impressive that they gave an enthusiastic ear to ICETT's staff, taking an interest in the explanation of our innovations, eco-friendly chopsticks made of paper. They also showed an interest in ICETT's programs and efforts in the environmental area and gave encouragement to us.
The week made us newly realize that we must continuously carry out public-relations activities to promote awareness of the environment through exhibitions or events like this fair.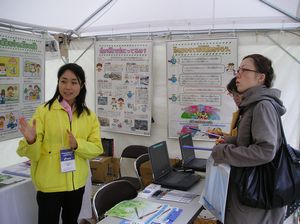 ICETT booth
ICETT's Poster Session at the Chubu Economic Federation Forum for Biodiversity
A COP10-related event, hosted by the Chubu Economic Federation, was held at the Nagoya Marriott Associa Hotel from 9 a.m. to 5 p.m. on October 25 (Mon). Mainly participants in the forum visited the session in between presentations and took a remarkably interested and eager look at the booths. (Onuma)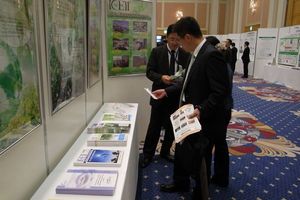 Poster session