Main content starts here.
Update:April 1, 2010
The History of Pollution and Environmental Restoration in Yokkaichi -For the Sake of the Global Environment (English and Chinese) @2000yen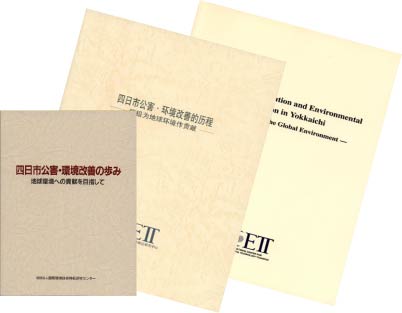 (quoted from the preface)
Yokkaichi drew to the local area the country's first large scale petrochemical complex in 1955, with full-scale operations beginning in 1959. A second complex was fired up in 1963, setting Yokkaichi on her way to becoming one of the nation's more prominent petrochemical and industrial cities.
Though the complex in itself appeared safe, the soot, offensive odors and chemicals, like sulfur oxides that exhausted from the smokestacks, polluted the air. Also the oil-contaminated effluents made fish smell offensively and polluted the water. These eventually developed into social problem.
Problems like these which were not limited to Yokkaichi were the result of high strung economical growth, and nonetheless, the epitome of Japan of that day. Air pollution in Yokkaichi was one of the four major cases of pollution in Japan. The other three being the first Minamata Disease of Kumamoto Prefecture and the second of Niigata Prefecture, and the Itai-Itai Disease of Toyama Prefecture.
After the outbreak of trouble in Yokkaichi, Japan went through a period of time where the government, industry and people were groping in the dark over how to deal with and prevent pollution. Repeated trial and error attempts finally lead to everyone joining forces in an effort to greatly improve the air and water quality in the local areas.
It was not, however an easy task to do the following: one, raise the will to clean up the environment in and around the area: enforcing pollution prevention first in Mie Prefecture and Yokkaichi before enforcing it on a national level, (for ex: sulfur oxides monitoring, free medical care for pollution-related sickness, overall emission controls), two, develop technology and introduce pollution prevention equipment on which the fate of each industry depended.
In the meantime, the number of victims among the local residents grew higher and higher. This is a grim fact we are obligated to face and an important lesson from which to learn. Pollution prevention today was born from this kind of experience, an experience that should, by itself, provide food-for-thought in future matters of environmental protection.
With this in mind, our mission as a nation is to constructively promote activities and contribute to the international community in such a way as to prevent, above all, the reoccurrence of pollution as has been seen to date. This entails providing the rest of the world, especially developing countries, with the pollution prevention technology developed from the painful experiences of Yokkaichi. And effectively applying Japan's production technology and administrative know-how, instrumental in saving the global environment, as a means for coping with pollution in rapidly industrializing and urbanizing areas throughout the world.