Main content starts here.
Update:August 6, 2017
FY2018 Yokkaichi-Commissioned Global Environmental Workshop Held for High School Students
Overview
ICETT organized a fiscal year 2018 Global Environmental Workshop, commissioned by the City of Yokkaichi.
This fiscal year, the Workshop was held for 6 days from July 31st to August 5th, 2018 under the theme, "What is SDGs? – Relationship between world's 17 Goals and environment."
We would like to express its gratitude to all the parties involved in the program, including lecturers, company staff members, and volunteers, for their cordial support and cooperation.
*Sustainable Development Goals (SDGs) are a collection of 17 global goals set by the United Nations General Assembly in 2015. The SDGs are part of Resolution of the United Nations General Assembly: "Transforming our World: the 2030 Agenda for Sustainable Development."
Background and Purpose
Inviting high school students from Tianjin and Long Beach, California, friendship and sister city of Yokkaichi City during the summer vacation period every year, the Workshop aims to deepen mutual understanding between these high school students and high school students from Yokkaichi City through opinion exchanges on such topics as environmental problems. This was the 11th workshop since 2008.
Contents
The participating high school students visited various facilities and companies during the workshop period. The main destinations for their study tours were as follows:
Yokkaichi Pollution and Environmental Museum for Future Awareness
Yokkaichi Municipal Clean Center
Tosoh Corporation, Yokkaichi Complex
Escolapios Kaisei Catholic Senior High School
West Yokkaichi High School
APiTA MATSUSAKA MIKUMO Branch of UNY Co.,Ltd. (Matsusaka City)
Ise Grand Shrine/Okage Yokocho (Ise City)
Kabuse-cha Café
Grand Yokkaichi Festival
In addition to the visits mentioned above, participating students received a lecture given by Mr. Takuji Terada, President of Next Step Study Group for Environmental Education.
One of the major purposes of this workshop is to deepen international exchanges in cultural areas. In fiscal 2018, students experienced the tea culture at Kabuse-cha Café, as well as deepened their exchanges with families who operate tea farm and Kabuse-cha Café.
In addition, they were able to increase their interest in and concern for Japan by experiencing Japanese traditions and culture during their visit to Ise Grand Shrine, and participation in the Grand Yokkaichi Festival.
In the Result Presentation, intended to present students' achievements in the workshop, high school students, divided into two mixed teams of the three cities, made presentations on what they learned and their future efforts.
After the presentation, they attended the lecture "Why Are the Sustainable Development Goals (SDGs) Important? ~Message to senior high school students~" given by Ms. Yoko Shinkai, who is Research Expert of NPO SSK, and deepened their understanding of SDGs with participating citizens.
Outcomes and Prospects
Through a series of program, participating high school students not only acquired knowledge about SDGs, but also identified what they need to do and presented their unique ideas for achieving those goals in each city when they went back.
We wish that through the friendships forged in the Global Environmental Workshop this time, high school students, who will lead their cities' future, will continue their exchanges and will play active roles as a bridge of these cities' friendship relationships and promote environmental preservation activities of Tianjin City, Long Beach, and Yokkaichi City in the near future.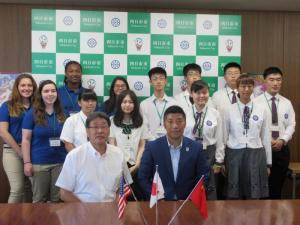 (Left photo: Courtesy visit to the mayor and city council chairman, Right photo: Results presentation)