Main content starts here.
掲載日:2016年10月25日
FY2016 Seminar Held in Tianjin, China
On August 18 (Thur.) and 19 (Fri.), 2016, ICETT organized a seminar in Tianjin, China, on soil pollution control measures and technology.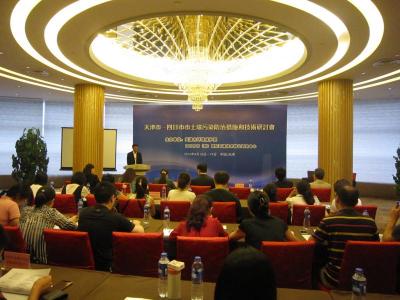 (Opening ceremony)
It was a seminar on soil pollution control measures and technology, but there were lectures also on air pollution, caused by photochemical oxidants and volatile organic compounds (VOCs), with the help of the inter-city partnership program of the Ministry of the Environment. The two-day event was conducted in a large-scale seminar style. Japanese and Chinese experts made presentations. On the afternoon of the second day, there were a question-and-answer session and a free discussion in which opinions were lively exchanged.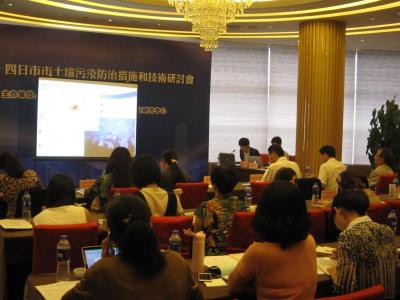 (Lecture by a Japanese expert)
Japanese lecturers were Junya Masukawa, Staff of the Yokkaichi City Environment Department (Environment Conservation Division, Air and Water Quality Unit), Takuya Shiozaki, Deputy Director of the Japan Environmental Sanitation Center (East Japan Branch, Environmental Sciences Department), Tetsuro Sato, Environmental Solution Group Chief of Kokusai Kogyo Co., Ltd. (Engineering Office, Environmental Protection Department), and Takao Sakabe, President of Sakabe Environmental Technology Office. The event was also attended by many Chinese officials from the Environment Protection Bureau of Tianjin and relevant organizations.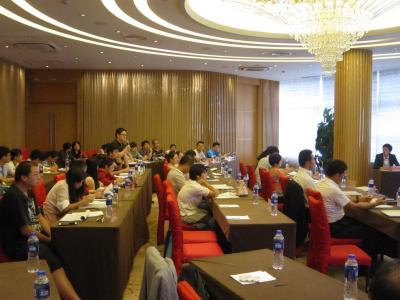 (Question-and-answer session)
Positive comments from the attendees included: "Because the seminar specifically showed us example cases, I deeply understood the Japanese pollution control measures and technology and the principle of environmental protection measures.", "I learned about important points in soil and other assessments. This experience will be useful for my work.", and "China just started to take environmental measures. I learned a lot about quite useful matters for the current Chinese situation, which entirely covered control measures and technology." These comments show that it was a practical seminar directly related to their work.