Main content starts here.
Update:April 2, 2018
<Report> Japan-Asia Youth Exchange Program in Science, Sakura Science Plan
Outline
We held an exchange program with 10 high school students and an attendant from the Republic of Palau for nine days from November 28 to December 6, 2018.
Contents
Since the State of Koror, where Palau High School is located, has a concentration of more than half the population of Palau, and a serious waste problem due to an increase in the number of tourists with its many tourist attractions, environmental conservation against the backdrop of this country's waste management problem was selected as the theme of this program. Palau High School has integrated many scientific elements in its curriculum based on a policy of the country's Ministry of Education. All the participants who belong to the science club of this school have an interest in science and technology in various fields, and have a strong concern about waste reduction as well. In the program, they learned about various cases of science and technology related efforts being made in Japan from the perspective of environmental conservation.
At the Yokkaichi Pollution and Environmental Museum for Future Awareness, participants learned about the history of life in Japan, circumstances of the occurrence of and damage by pollution, and measures to improve the environment, and they learned that current Japan was created after great suffering and grievous experiences.
In interaction with Mie University, participants engaged in experience-type study on the mechanism of wind power generation. Supported by professors and graduate students there, they experienced strong wind generated by large wind tunnel experimental equipment, and operated a small wooden vehicle body with a handmade paper windmill attached to it in a small wind tunnel in an intergroup race. They observed motions based on wind power energy, and learned that the state of rotation is changed through subtle adjustments of the shape and size of the wings.
During their visit to an enterprise, participants were able to learn about the possibility of waste disposal, experiencing Japanese technologies developed in recent years, such as recycling technologies for glass and plastic.
In Tokyo, they visited the National Museum of Emerging Science and Innovation, and enjoyably experienced science and technologies while interacting with various exhibits. To conclude the Program, they visited the Embassy of the Republic of Palau in Tokyo, and each of them made a presentation on what they learned in Japan, and their impression of Japan. Participants talked about Japan being very clean and properly recycling resources, as well as the possibility of technological development in Japan.
During their stay, participants interacted with Japanese graduate students, high school students and local residents in various ways. In particular, in the interactions with Mie Prefectural Kawagoe High School, after respective introductions of their own countries and high schools, participants from Palau performed a traditional dance that they devised themselves, and with Kawagoe High School students joining in dancing, the performance came really alive. They also experienced high school life in Japan, so rich in contents, participating in a math class by solving questions and cleaning the classroom together with students. Also, they were able to experience daily living in Japan and Japanese culture by visiting a local volunteer's home and experiencing a tea ceremony.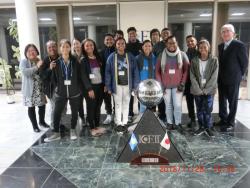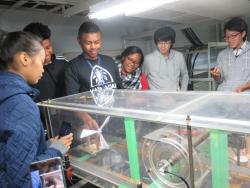 (Photo: Left Group Photo, Right Practice for Wind Power Generation)