Main content starts here.
Update:April 1, 2018
<Report> Tianjin Environmental Exchange Project Planning and Management Business
Outline
Yokkaichi City and Tianjin City, People's Republic of China, have continued exchanges in various fields since their friendship city agreement in 1980. As part of their exchanges, ICETT has provided training entrusted by Yokkaichi City, aiming to improve environmental problems in Tianjin City, since 1993. Since then, 130 people have taken training provided in Yokkaichi City, while 917 people participated in seminars held in Tianjin City. In fiscal 2018, under the theme "wastewater treatment in an industrial park," a seminar was held in Tianjin City, and training was provided in Yokkaichi City.
Background and Purpose
In Tianjin City, while the city achieved remarkable economic development, improvement of its many environmental problems has become an urgent issue. To this end, for this project, which was held for the improvement of the environment of Tianjin City, officers of the Tianjin Environmental Protection Bureau and other relevant persons gained understanding of Japan's environmental technologies and management method.
Contents
(1) Seminar in Tianjin City
For two days on October 16 and 17, 2018, we held a seminar in Tianjin City, which was attended by 119 people, including representatives from the Tianjin Environmental Protection Bureau and researchers. In this seminar, specialists from Tianjin City made presentations concerning the current conditions of Tianjin City's water environments, and specialists from the Japanese side made presentations on "Japanese laws related to water pollution and related management mechanisms," "Method of removing heavy metals from wastewater and matters to be noted when operating and controlling wastewater treatment facilities," and "Technology to remove organic and toxic pollutants using a physico-chemical treatment method." In the final session of the second day, an open discussion regarding wastewater treatment in industrial parks was held.
(2) Environmental Conservation Seminar: Training in Japan
The 14-day training provided in Japan from November 4, 2018 to November 17, 2018 was attended by six persons, including officials from the Tianjin Environmental Protection Bureau. After learning about current efforts in environmental administration from officials of the Yokkaichi City Government, training participants also learned about legal systems and technologies regarding water pollution prevention in Japan. They also visited companies and public institutions and learned about environmental education, corporate responsibilities, and information disclosure, in addition to water quality conservation technology.
Furthermore, training participants visited Kyoto City in addition to Kobe City, a city that signed a friendship city agreement with Tianjin City, and learned about the features of environmental administration of both cities, advanced wastewater treatment technology and analytical instruments.
Achievements and Prospects
From training participants in the Environmental Conservation Seminar in Tianjin City and the Training in Japan, comments as stated below were provided:
(1) Seminar in Tianjin
- In a comparison of both countries' National Effluent Standards, a detailed explanation of disposal methods of heavy metal wastewater was given. Introduced measures for each problem also served as a shining example.
- As a person in charge of an industrial park construction project, I was able to obtain clues about the construction, management, and operation of a sewage treatment plant in an industrial park.
- Although the situation varies depending on the country and region, with some common parts, I felt that countries and regions should mutually learn from their examples. I believe that Tianjin City's water quality management will become more scientific and modernized through interactions between Japan and China.
(2) Training in Japan
- Japanese governments and companies put an emphasis on environmental education and information disclosure, and can raise the environmental consciousness of younger generations. In China, environmental problems tend to be coped with after their occurrence because of its priority on economic development. I learned that it is vital to foster environmental awareness in order to solve these environmental problems.
- Companies, to which we took a study tour, have recognized their responsibilities toward the environment, have voluntarily set strict standards, and have disclosed related information. Chinese companies still fall behind in the aspect of environmental awareness, but will be able to use efforts of Japanese companies as a great reference.
In 2018, the former Environmental Protection Bureau of China's Central Government and the Environmental Management Sections of other ministries and agencies were unified and upgraded to the Ministry of Ecology and Environment of the People's Republic of China (MEE). As shown by this fact, China as a whole has put an emphasis on environmental improvement, and expectations for this project have been increasingly raised. Also, taking themes in line with Tianjin City's problems in the future, we will aim to engage in a project that can help to improve Tianjin City's environment.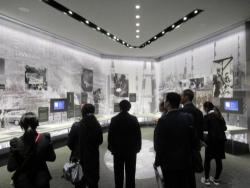 (Photo: Training in Japan)