Update:August 4, 2017
The Global Environmental Workshop: High Schoolers Visit the Takaoka Distribution Reservoir Small-Scale Hydropower Plant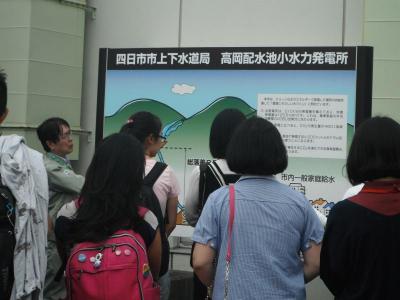 Global Environmental Workshop, suported by Yokkaichi City Government, is held for high schoolers from Tianjin in PR of China, Long Beach in the United States, and Yokkaichi in Japan during their summer vacation. The workshop is designed for high schoolers to deepen exchanges with each other.

The fiscal 2017 workshop lasted from July 31 to August 7 and focused on "Stop Global Warming! – What We Can Do for the Future of the Earth".

On August 3, the high schoolers visited the Takaoka Distribution Reservoir Small-Scale Hydropower Plant, about one kilometer away from ICETT. This distribution reservoir collects water piped in from a water treatment plant and pumps it to individual households. Here at the Takaoka Distribution Reservoir, electricity is generated by rotating water turbines, which is made possible by using a total drop of 85 meters from the Mie Public Enterprise Bureau Suizawa Water Treatment Plant.

The water pressure generated from the drop had before been regarded as useless and removed by adjusting a valve in the water pipe. However, when small-scale hydropower generators were installed in April 2007, the unused energy from the water pressure could be turned into electricity. Now, the electricity generated there would be enough to supply 350 households. Selling the electricity to a power company paid for the cost of installing the generators in 10 years.

According to a Yokkaichi Waterworks and Sewage Bureau official who guided the visiting group, there are only ten to twenty facilities like the Takaoka Distribution Reservoir in Japan where the method of generating power using tap water from a water treatment plant has been introduced. This reservoir is the only one in Mie Prefecture. Finding locations that offer the right conditions to set up generators appears to be difficult. However, small-scale hydropower generation, which makes efficient use of energy that would otherwise be wasted, draws great attention also as community-based power generation. Even local people exchange thoughts and ideas with each other about using water from rivers and for agricultural and industrial use to generate electricity. Awareness of small-scale hydropower generation has gradually been growing.

After the study-tour of the distribution reservoir, the high schoolers asked questions and nodded their understanding when they learned the differences between small-scale and general hydropower generation. Their attitudes showed that they had learned a lot about this subject through their visit. ICETT would like to thank the Yokkaichi Waterworks and Sewage Bureau officials for providing them with this valuable educational opportunity.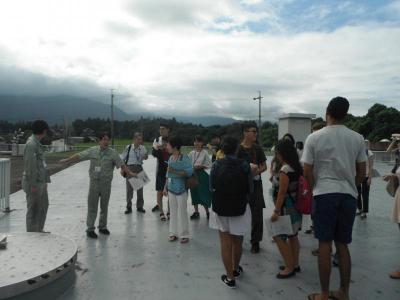 On a concrete-covered water supply tank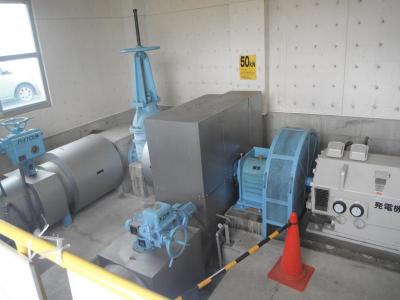 Small-scale hydropower generator

Some of the publications on this site are in PDF. To view them you will need to have Adobe Acrobat Reader Please click the graphic link to download Acrobat Reader.