Main content starts here.
Update:November 1, 2017
ICETT Participates in a Public Symposium in the Fall 2017 Study Meeting of the Association of Japanese Geographers
The study meeting of the Association of Japanese Geographers (AJG) was held at Mie University. As part of it, there was a public symposium to commemorate the 45th anniversary of the court ruling in the Yokkaichi pollution lawsuit. For this symposium, AJG also invited non-members to make presentations. As one of the presenters, an ICETT director took part in the symposium. The details are as follows.
 Theme: Lessons from the Yokkaichi Pollution and Environmental Cooperation with Asian Countries
 Date: Saturday, September 30, 2017, 13:00-17:00
 Location: Faculty of Humanities, Law and Economics at Mie University
 Leaflet and schedule(PDF:470KB)
Many people attended the event in memory of the 45th anniversary of the court ruling in the Yokkaichi pollution lawsuit: academic experts from Mie University and other universities, experts from relevant organizations, Mie residents, university students, and high school students. There were presentations by each group about their activities and exchanges of opinions about problems to be tackled to remember the Yokkaichi pollution.
The first part, entitled "Examine the Past, the Present, and the Future of the Yokkaichi pollution", presented what the Yokkaichi pollution was and what the lessons from the past pollution had been from an academic viewpoint, from a viewpoint of the plaintiffs in the Yokkaichi pollution lawsuit, and from a viewpoint of a related museum and a local volunteer group that today explain the past pollution. Their activities were presented, too. ICETT explained its global eco-friendly activities, such as efforts for offering support to businesses that play an active role in the environmental field, which will help realize the balanced development of the global economy and environmental protection.
| | | |
| --- | --- | --- |
| | | |
| Professor Park Hye-Sook of Mie University | Emeritus Professor Tatsuo Ito of Mie University | Takashi Narukawa, Curator of Yokkaichi Pollution and Environmental Museum for Future Awareness |
| | |
| --- | --- |
| | |
| Nozomu Takeuchi, ICETT Executive Director | Yukikazu Noda, witness of the Yokkaichi pollution and plaintiff in the Yokkaichi pollution lawsuit |
In the second part entitled "Examine Environmental Problems in Asian Countries", experts from each of the relevant fields made presentations about collected data and information regarding environmental issues in South Korea, China, Mongolia, and Vietnam, and about the results of activities in these Asian countries.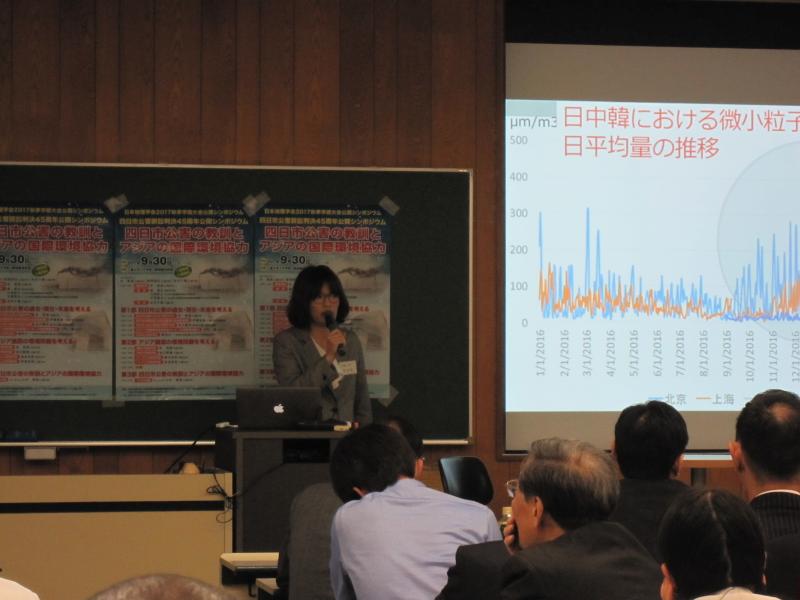 Lecturer Wonsuh Song of Hosei University featured air pollution problems in South Korea. According to the lecturer, industrial areas are regarded nationwide as emission sources of air pollutants, but, in the metropolitan area of Seoul, 54 percent of all emissions come from diesel vehicles, which also has a significant impact on the air quality. Comparing daily PM2.5 averages of Tokyo, Seoul, Busan, Shanghai, and Beijing resulted in China (Shanghai and Beijing) showing the highest averages, followed by South Korea (Seoul and Busan) and then Japan (Tokyo). The amount of air pollutants increases in winter in South Korea and China, while slightly higher averages are seen in summer in Japan.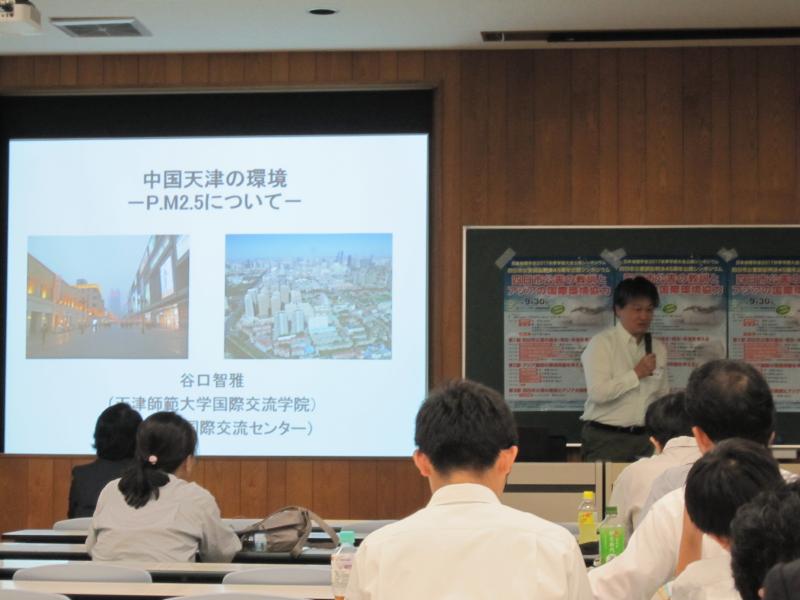 Professor Tomomasa Taniguchi of the Center for International Education and Research of Mie University covered air pollution problems in China. He explained how much environmental awareness Tianjin residents share, based on his activities at schools in Tianjin to provide education on the environment. In one example he explained how local people carefully check the air quality, which is updated online all the time, while going through their daily lives, using a six-level alert system. Also in Tianjin, educational institutions have made great efforts in the area of environmental education. Many Chinese even appear to be familiar with pollution problems in Japan. Activities to raise eco-friendly awareness and improve the environment have already started in the Chinese city, but there is still a greater need for continued measures to be taken because the air conditions largely vary according to the weather or the region and there are many days when quite high values of pollutants are recorded in the city.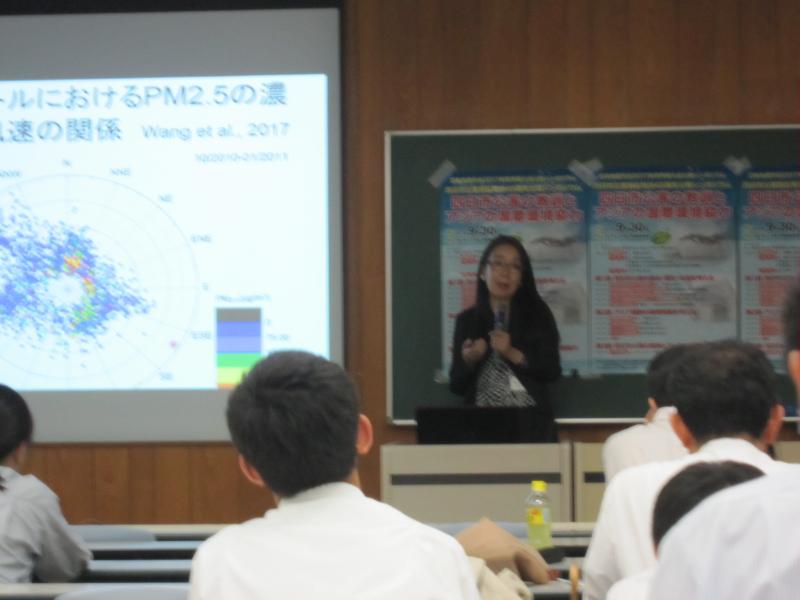 Professor Yuki Morinaga of Meiji University, who specializes in Mongolian sociology, presented environmental issues in Mongolia. She explained that Mongolia has shown remarkable economic growth by switching from a planned economy to a market economy and in Ulan Bator there are rapidly growing numbers of residential quarters of mobile yurts where nomads live. Certain data show that 80 percent of the air pollution is caused by the stove fumes from the yurts. The professor reasoned that serious environmental problems were caused by this dramatic social change that leads to increased migration of the population into the cities.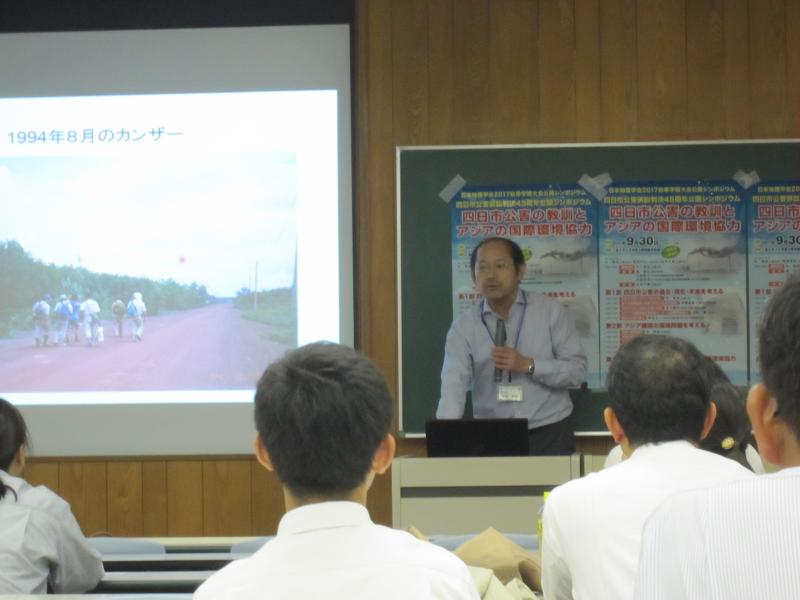 Professor Kazuhiro Ajiki of Mie University made a presentation about the situation in Vietnam. He conducts research on planting and conserving mangroves in the Can Gio District, about an hour drive from Ho Chi Minh City. The district near the former capital once used to be a rich fishing spot where mangroves grew wild but it was devastatingly damaged by the defoliants which were sprayed during the Vietnam War. After the war, however, the Vietnamese government intensively promoted the planting of mangroves there. Can Gio was successfully restored and is today designated as a biosphere reserve. Even eco tours are conducted there. This way, the district attracts a large number of tourists from Singapore, South Korea, and Japan.
In the third part, "Lessons from the Yokkaichi Pollution and Environmental Cooperation with Asian Countries", there was a discussion between experts from each of the relevant fields and regular guests interested in the following questions: "What are your ideas about developing 'human assets' at businesses and governments?", "How did the Yokkaichi pollution affect other countries?", and "What is human resources development?". The questions were answered as follows by each of the fields.
University:

It is necessary to promote an interdisciplinary approach by blending all the studies of arts and sciences, while offering opportunities for individual students to deeply pursue individual studies.

It is important for students from outside Japan to develop friendly and mentoring relationships with the next generations of students from outside Japan after returning home.

Business:

There are differences between coaching and telling. It is necessary not to force employees to work on some tasks but to place importance on their feelings so that they can develop an interest in them. What matters is what you would really like to do.

The development of human resources is what the management has to do, including the development of a successor. Recent university students are very intelligent and knowledgeable, but they don't seem to use much of their wisdom. It would produce good results if they did.

ICETT:
The establishment of ICETT was the result of the Yokkaichi pollution. ICETT has conveyed the experience and history of the pollution to many developing countries. ICETT is confident that the organization contributes to improving and protecting the environment in Southeast Asian countries, such as Indonesia, Vietnam, and Thailand.
As a moderator, Professor Park Hye-Sook of Mie University concluded the discussion by saying that industry, government, academia, and local residents need to take advantage of this opportunity to cooperate with each other, ambitiously demonstrate and promote their abilities among the public, while sharing their understanding of environmental protection and the economy.

Some of the publications on this site are in PDF. To view them you will need to have Adobe Acrobat Reader Please click the graphic link to download Acrobat Reader.